Cheltenham to Bath Cotswold Way walk, July 2018
Introduction
I live in Cheltenham, the self-proclaimed "centre for the Cotswolds". The Cotswold Way national trail, a circa 100 mile (161 km) long-distance footpath linking Chipping Campden with the city of Bath (mostly following the Cotswold escarpment), goes over nearby Leckhampton Hill and Cleeve Hill, where I regularly go walking.
In May 2015 I walked from Cheltenham to Chipping Campden, the northern terminus of the Cotswold Way. Since completing this northern stretch of the Cotswold Way, I've wanted to walk the much longer section from Cheltenham to Bath.
In July 2018, much of England was basking in sunshine, clear skies and high temperatures. The three or four day window of good weather that I'd been looking for (not very diligently, it must be said) was finally there. I took the plunge, and on 10th July, I set off.
Where is this?
The map below shows Cheltenham and Bath, and also includes Oxford, Bristol and London for context. The Cotswold Way route is shown in light red.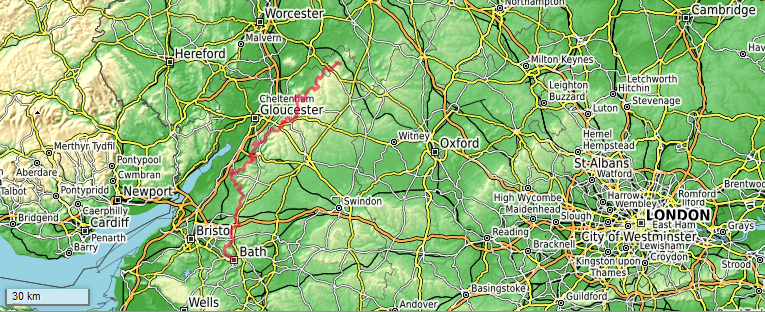 Day 1: Cheltenham to Stonehouse
| | |
| --- | --- |
| Distance walked: | 50.3 km (31.2 miles) |
| Average speed: | 5.8 km/h (3.63 mph) |
| Ascent: | 600 metres |
I left my flat just after 9 AM, walking along Cheltenham's High Street, and then through Sandford Park and Charlton Kings to reach a path leading up to the Cotswold Way on Charlton Kings Common.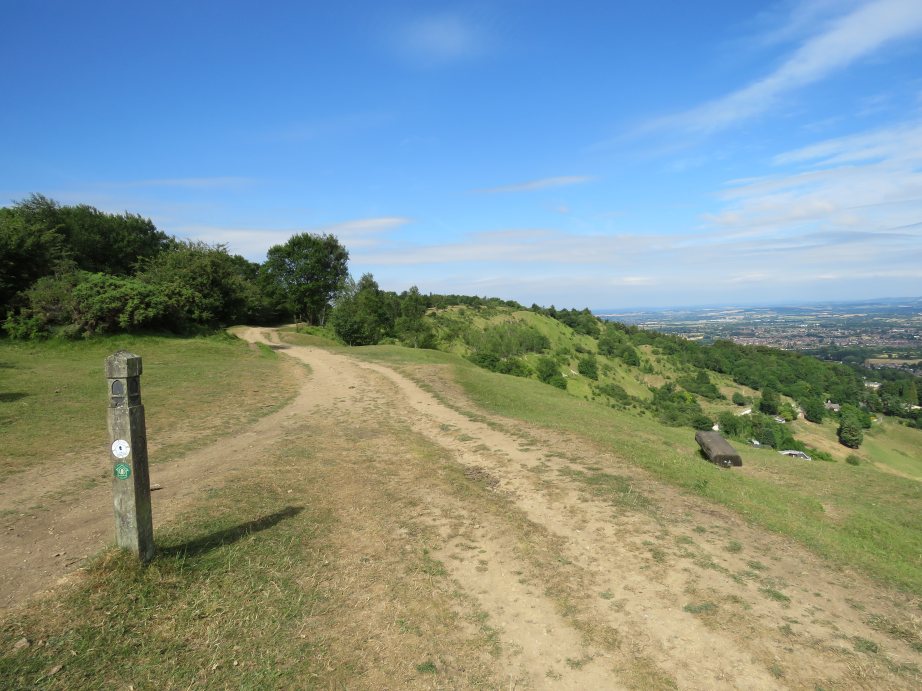 As you can see, it was a beautiful, bright, sunny day. Since I've been to this area many times before, I rushed on without really pausing to admire the scenery. After all, my walk had only just started in earnest.
If you find yourself on Charlton Kings Common, and walking in the same direction I did, don't forget to turn around—otherwise, you'll miss this view over to Cleeve Hill (the highest point on the Cotswold Way):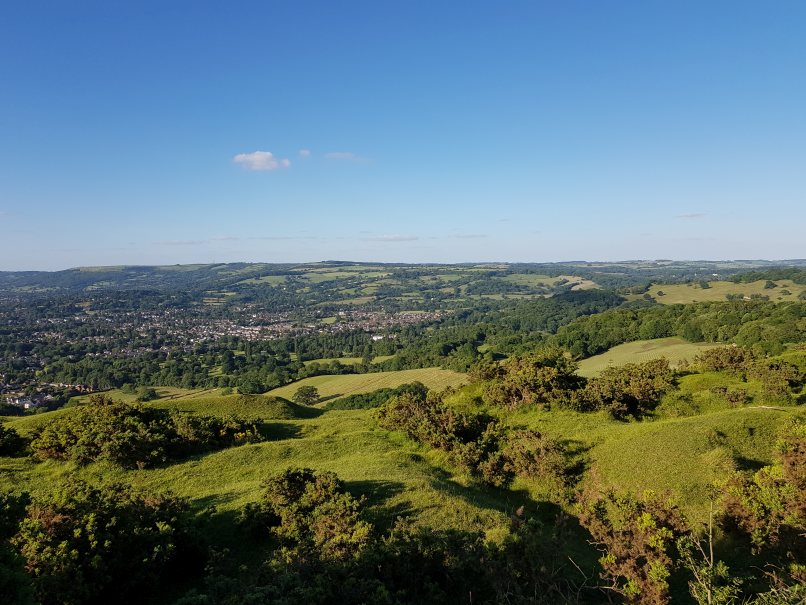 The Cotswold Way continues through Ullenwood, taking walkers into this beautiful wood or forest: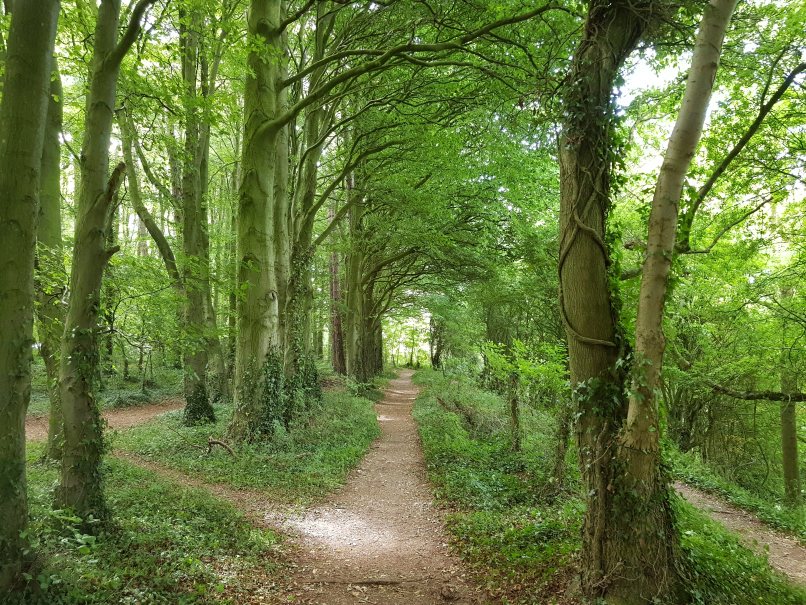 I soon found myself at Crickley Hill, the first of many National Trust properties I would pass through on my walk: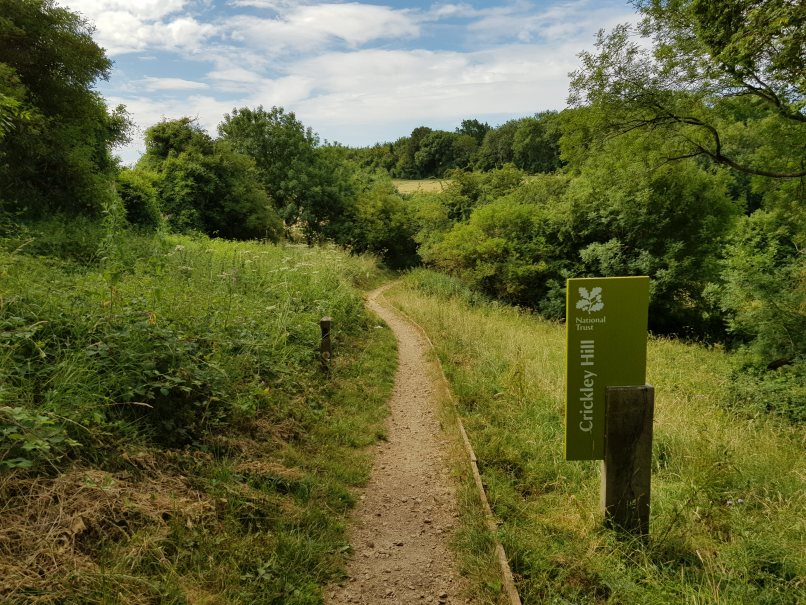 When I tell people about my walk, after expressing a mixture of admiration, surprise and bewilderment, they often ask "did you do that for charity?" or "did you camp?". I walked for the fun and the challenge, but was also keen to use it as an opportunity to improve OpenStreetMap, a collaboratively edited and freely usable map of the entire world. The Cotswold Way is very well-mapped on OpenStreetMap, but I did correct a few minor mistakes, and added several adjoining paths.
On the subject of camping, the places which the Cotswold Way goes through are largely rural, but not particularly remote. The nearest town or village is usually not that far away, so no, I didn't camp.
Crickley Hill offers a good, unspoilt view of common Cotswold scenery: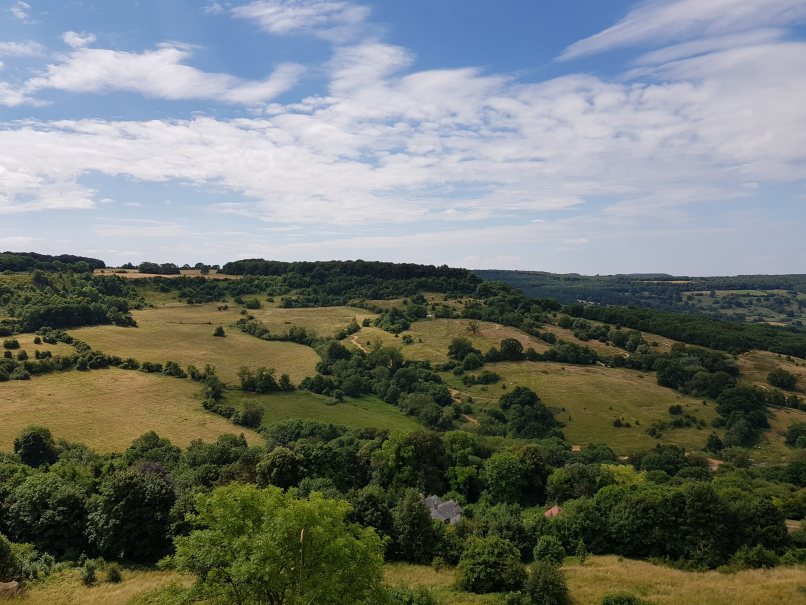 National Trails, the organisation responsible for managing the UK's national trails, uses a very similar picture to this to promote the Cotswold Way.
The Cotswold Area of Outstanding Natural Beauty is the second largest protected area in England (after the Lake District).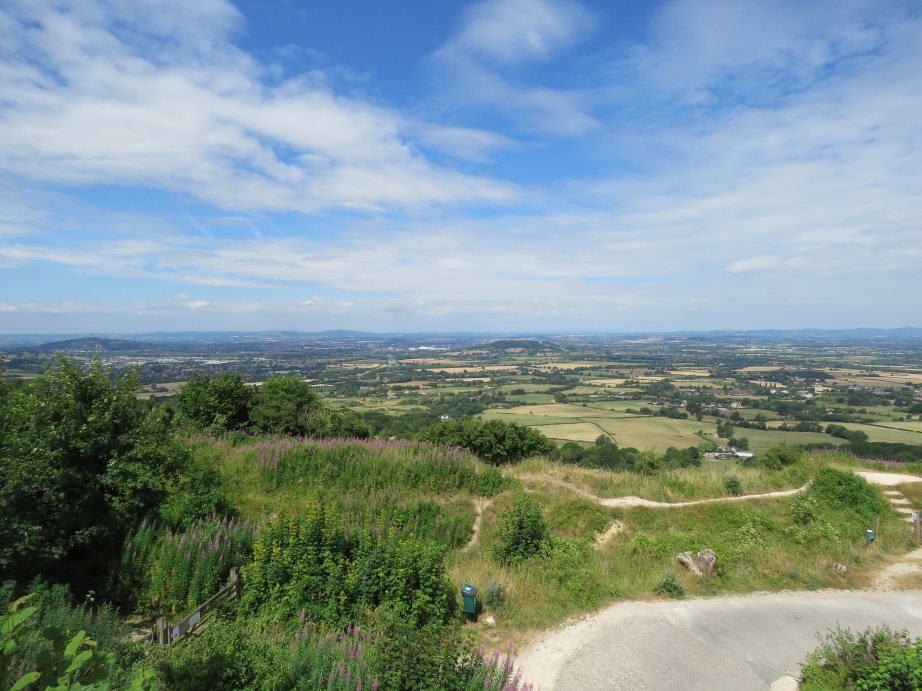 From Crickley Hill, long sections of the Cotswold Way go through woods or forests. I saw a small deer just off the path at one point.
By now, I was starting to get a little tired. The distances on Cotswold Way markers started to seem noticeably longer. "Three miles to Coopers Hill?!", I asked myself.
The incredibly steep (almost vertical in places) Coopers Hill enjoys some modest fame for being associated with the wonderfully eccentric local tradition of cheese rolling. Every May, a whole Double Gloucester cheese is rolled down the hill, with anyone crazy enough to compete rolling, sliding or otherwise making their way down the hill after it.
It's hard to show just how steep the section of the hill used for this is. Here's what it looks like from the bottom: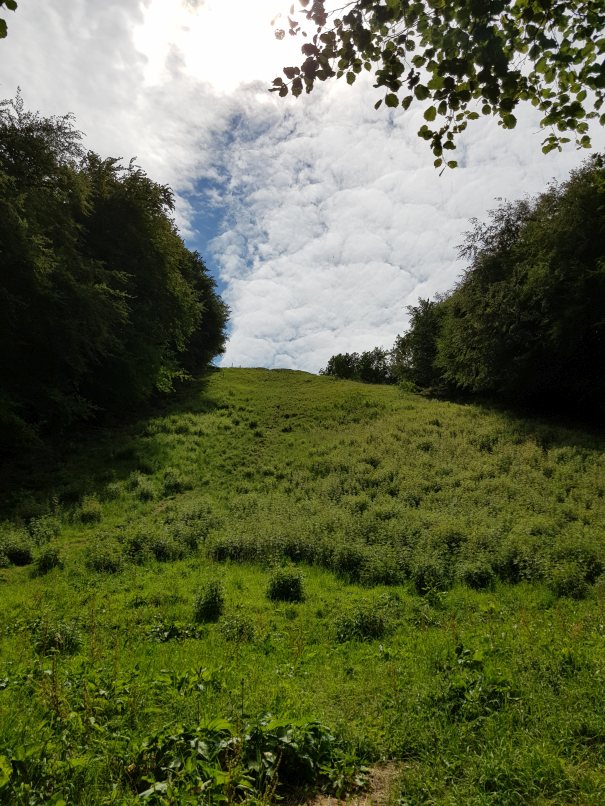 ... and here's what it looks like from the top: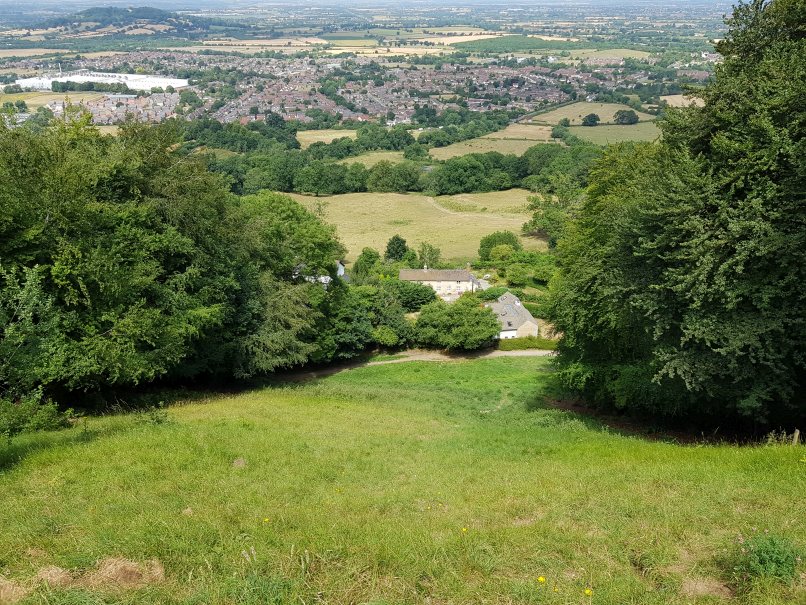 Imagine standing at the top of this hill and hurtling yourself down. It's certainly not for the faint-hearted. Injuries are common. By the way, all the winner gets (aside from the glory) is the cheese itself. There's also an uphill race for kids.
At Coopers Hill I allowed myself a short (about five minutes) break. Until this point I'd only had water and snacks on-the-go.
Soon I was off again, heading towards Painswick Beacon. This iron-age hill fort (also known as Kimsbury hill fort) offers excellent views across the Severn Vale. Yet, if you follow the Cotswold Way strictly, you'll miss the best viewpoint. I cannot understand the reasoning behind this omission.